I think I only posted this on Facebook…so woopsies, here's a shoutout to my tumblr bloggy friends! New "Muffin Tops are for Muffins Only" tanks and TEES are in. Yay for those of us in cold places. Darker shades too. $18. Free shipping US and add $5 intl. See other colors here.
Just wanted to say thank you for reading my blog and doing POP Pilates. It means a lot to me knowing that there's a strong community here looking to get fit healthily and that we're all doing it together. The comments you guys left me in response to the "Feeling Fat and Failing" post made me realize how similar we all really are. It touched me to hear that the article brought some of you to tears because it described exactly how you feel on crappy days too. I guess I will now blog more about my personal experiences in addition to the researchy type stuff I look up. Thank you x a million for your feedback and your love. We're in this together!
<3 Cassey
TV dinner cupcakes from Hello Cupcake. Hahaha I used to eat TV dinners. The $1 kind and it really did look just like this except without the bone. 
And here's the Muffin Tops are for Muffins Only video preview! Watch me try really hard to model this thing…
Look at me! I'm wearing the "Muffin Tops are for Muffins Only" tank top for POP Pilates. Woohoo!!!
I know I kept saying tshirt contest but tank tops are much hotter. 
Check it out…a strawberry cupcake with choco-chip muffin friend. We can look at em. But don't eat em. Those muffin tops stay RIGHT THERE.
The winning design idea is credited to Becky Kemp Hepinstall who will also be receiving a free shirt in the mail soon! 
Becky's Original Design:
My interpretation:
You'll love the ribbed racerback tank. I suggest ordering a size up from what you normally wear just so that the image won't stretch out too crazily and make vertical lines due to the ribs. These tanks are pretty form fitting and look amazing! Comes in Small, Medium, and Large in white.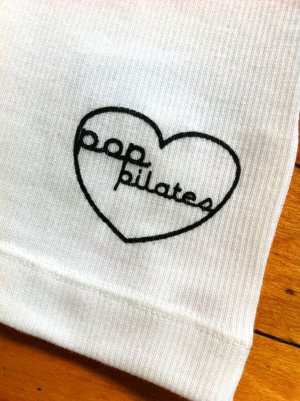 There's even a lil POP Pilates heart in the bottom corner of the shirt!
Wear it to school, to lounge, to workout, or to sleep! Super comfy and super cute. Honestly, if you've changed your body through POP Pilates you have EARNED yourself the right to wear this shirt. Just sayin. Get it quick though because I only made a limited quantity!
The tank is $16 with free shipping in the US, Canada, and Puerto Rico. If you're international, just add 5 bucks. That's it! I have set up shop on ecrater and you can pay with credit card on paypal.
Thanks so much to everyone who participated in the contest! Twas fun! We'll have to do another one again soon. Once you get your shirt, please take a pic and share it with us on the Blogilates facebook fan page!