"What do you mean I can't look like this all the time???"
REALITY CHECK.
UGH.
So yesterday I was working out with Kip, and I was telling him how great I feel and how happy I am with the results that we've achieved these past couple months. He paused. Then told me that he's happy too but it can't be like this year round.
I was flabbergasted. Huh? I said? What do you mean? I have to be in front of the YouTube camera and my fans already saw the transformation. You mean I'm gonna go back????
He said maybe you may go up 5, 10, 15 lbs, who knows. I almost died as I was doing my chest presses.
We had a really long conversation throughout my workout and I was brought to a realization that it isn't actually natural to look like a bikini model all day long 365 days a year for the rest of your life. Don't get me wrong, I wasn't under the impression that everyone can look like a magazine cover year round, but I thought that once you lose weight, you can pretty much cruise and eat normal-healthy again, workout 5-6x a week, 1 hr a day and maintain. You know, not have to do cardio 2x a day and live in the gym and have no condiments.
Nope. Even me. A fitness guru and healthy living freak. I have been living in a little bit of a fantasy world…big reality check for me.
These past 2 months I've been eating extra clean and working out 2x a day. I've been dropping fat rapidly and it's been so cool! The ride has been exhilarating – working hard- seeing results – working harder – seeing better results! Faster results! But how long can I actually keep doing this for? My bikini competition is this Saturday and I will look the tightest and leanest I have ever looked in my life. In fact the past month I have look the best I have ever looked in my life. So to think that after ALL of this hard work, I can't just keep it???
It kills me.
It kills me to know that once you build something you can't just relax and bask in all the glory. Well at least not for too long. Maintaining a body is like maintaining a business. You get there but you gotta keep it fresh to keep things looking good, keep the business flowing. Your body is smart. It knows how to find a balance. It doesn't like losing weight all the time so it will become efficient and figure out how to keep fat around even when your workouts and diets are nuts. That's why you gotta change your routine every 4 weeks. That's why you gotta change up your diet, carb cycle…all that stuff…to keep challenging and surprising your body.
At the end of the day, it takes hard work to look like a fitness model. And you really can't look like this all the time. I am so sad that these flat abs and those lean arms may go away if I don't keep up this regimen. AHHHHH.
So anyway, I yelled at Kip. I said NOOOOOOO!!!!! I don't wanna go back! I don't wanna go back!!!!! I've worked too hard! Please no! You must help me!!!! He laughed and said you're still young and have a long way to go, I don't want you to hurt yourself. I kept telling him, please please I have to keep these abs. I've never had these abs before. Eventually our convo got a little ridic with me being all low carb, emotional, moody, and living in a fantasy land. So we just kept working out. But this topic stuck with me all night and day and I can't get if off my mind.
Excuse me if I sounds like I'm a looks-obsessed little brat, but just expressing my feelings full blown. It's not really about the abs or the arms or the body fat or the weight. It's about all the hard work. I just…just…can't imagine saying goodbye to the finished product after all that time, dedication, sweat, tears, and umm, money spent on this journey.
ARGH.
So how do some people do it? I am not sure actually. I do know that REAL fitness models have to eat strict all the time and when they have shoots they go SUPER strict. Even they go up and down but on a high level. They have to workout hours a day but it's their job. And they make $ from it. Is it worth it for me to continue working out that many hours a day to maintain this look? Maybe if it were my job, I'd do it.If I were just a normal person, I don't think I would. It really is a lot of work and I honestly feel like you need to get paid to put yourself through this!
Also, bikini and fitness competitors all have a competition weight and an off season weight. Everyone has one. Kip says we need to find mine too. It's just not natural or safe to stay so low in body fat and weight all year round. He said that when he was competing he'd go up 20-30lbs in the off season and then just shed back down when it was time to hit the stage.
Of course we can all work hard once summer rolls around and look great in a bikini. SURE!!!! Do it! But to try to work crazy like that to look bikini ready even during the holidays? Thanksgiving? To miss out on social outings…not have dinner with friends…to not ever eat pizza or burgers or fries…or you know things that bring simple joy to people, yea I don't know.
Also, I want to mention that the level at which I am training and eating is super vigorous. When I say I may not be able to keep this up year round, I mean eating super duper clean and doing cardio 2x a day 6 days a week plus weight training. Once the bikini competition is over, I plan to continue eating clean, just not crazy clean. I want my hot sauce again. I want it now. I want flavor. Please.
But no. 3 more days. 3 more days!!!!!
Ah, I don't know if this post makes any sense at all! And I don't have time to proof read it because I am gonna be late to training but ya here you go.
Takeaway?
You can look great and stay fit year round working out and eating clean. No prob. Flat stomach and toned arms are achievable and maintainable. You can strive for that yes. Super cut, ripped, defined, fitness model, bikini competitor look – takes work. You should be getting paid if you're working that hard. Or maybe you really just love working out 3 hrs a day and eating plain food. It's just not where your body was naturally meant to be if you want to do other things things with your time. I'm being real here!!!!! I live at the gym right now! I barely have time to do anything else.
OKAY! Time for YOUUUUUU to talk!!!! Tell me how you feel about this. How do you stay fit and have you achieved your dream body? Were you able to stay there? Or did you go back up? How did it feel?
What the female body looks like at different body fat percentages
Wow take a look at that! Where do you stand? As you can see, as the levels of body fat begin to increase, loss of definition becomes more and more apparent. Don't take this too close to heart though, because 2 people with the same body fat percent can actually look totally different. See below: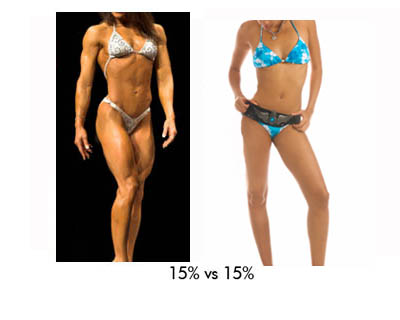 Will 2 people with the same body fat % look the same?
No. It isn't all about body fat percent, it's about lean muscle mass too. If these 2 women were the same height, let's say 5' 5", I bet the girl on the left weighs around 118 and the one on the right, 95 lbs. How you build muscle (or not) will determine the your physique. Left girl obviously lifts weights and right girl does not, but the layer of fat from their muscle to skin is the same. Does this make sense? Body fat is just the thickness of the fat you have. Your overall shape is determined by your musculature.
What's your body fat %?
Above is a great chart that matches up your body fat % with fitness level. The people in "essential fat" are usually Olympic athletes or serious fitness competitors. At this low of a body fat % women will lose their periods completely! I hear that most bikini models are around 14-15%, so that would put them in the "athlete" level.
How to find your body fat percent?
1. Skinfold Measurement (Skin Pinch)
2. Bioelectrical impedance analysis (Handheld/Scale Deviced)
3. Dual energy X-ray absorptiometry (Dexa Scan)
4. Height and circumference methods (Measurement Collections)
5. Hydrostatic Testing (Underwater Density Test)
The skin fold test is what I used to determine by body fat percent. You will need a personal trainer or someone who knows how to use calipers to do that for you because he or she will have to pinch your fat and measure the mm of fat thickness in 7 different areas, some of which you will not be able to reach for yourself, like your back.
I know a lot of you may not have access to calipers, a personal trainer, or a gym, so here's a quick and semi accurate way to see where you stand. This is #4, the height and circumference method - use this online calculator, a scale, and a measuring tape to see where you fall:
http://www.active.com/fitness/calculators/bodyfat/
[Edit 7/20/2011: A lot of girls were telling me that they got bf%'s in the low 30s when they knew they were around the 20s. Thanks for the call out. For whatever reason that calc seems to be very off. Try this one instead? Although, this is not as accurate as a caliper measurement by a fitness professional!]
http://www.bmi-calculator.net/body-fat-calculator/

Remember, this will not be completely accurate so proceed with caution!
What am I?
In the picture above, I am 17.5% body fat and 118.4 lbs. I'm 5'5".
Finding a balance…

Don't get too sucked in by the numbers. What matters is how you look and feel at the end of the day. I know a lot of young girls just want to be 105 lbs and will do anything to get there. (I get so many emails about this…) But remember, if you want to get thin, take into consideration your health as a whole. Think of it as getting FIT not as getting skinny. I love that through my workouts, not only have I achieved a more toned body, but I also have gotten so much stronger!
Some of us want the skinny actress look, others want bigger butts or bigger boobs, while a select few fancy looking like body builders on steroids (see 1st photo). Whatever it is you want, I encourage you to follow through with you goals as long as you feel strong and healthy doing it. Okay? Also, remember to be happy with the journey too. Because what happens when you get to your goal weight and you don't experience an instant burst of joy like you had always dreamed? Well, that's why you gotta embrace your healthy lifestyle. Keyword: lifestyle. It doesn't end when you reach your goal…it becomes your life. So love it now.