Chart above borrowed from ACE (American Council of Exercise)
Hi there! It's a lovely Saturday morning and the sun's out. It makes me happy to sit by the window and write :)
I want to tell you a funny story yesterday. Not that you'll actually care but it might make you smile.
So yesterday I was super duper tired because it has been a long, stressful (but exciting) week with the launch of the new blog layout. I've been staying up crazy hours (like to 9AM) fixing and writing and tweaking and checking. It gets addicting. REALLY addicting. But sister and I went to the gym anyway because I needed a good Friday evening energy-boost.
I was setting up our workout station when a personal trainer friend of ours came by to chat. Because I didn't want to start our crazy workout yet, I intentionally delayed it by asking him if he could check our body fat percentages. Hahaha. Instead of caliper-ing we did the hand-held device:
When I was in Boston, I only used the calipers. But if you wanna know which one is I think is better, I will tell you this: both will have their own percentage of error. Human error or machine error. So my suggestion is to use just one method and track the changes. The progression will not lie.
So my sister went first as I was taking off my workout gloves. She got 18.2%. Then it was my turn. I was kind of nervous. I hadn't had my bf percent in quite a few months. My lowest ever was 17.9% back in May (5 months ago) when I was doing my 8 week bikini body challenge. (Oh and just in case you're wondering, the reason why I am not sharing the full diet plan is because I think there were some elements in the plan that I cannot personally recommend.) So I held on. Held on pretty tightly as I remembered back to posts such as "Feeing Fat and Failing" and all the foods I ate in the past few months that were restricted in my bikini diet. Would my number go up? Would it go up back to 24% before I started this all? Would all my hard work go to NOTHING because I wanted to eat some cheesecake and ice cream once in a while? It was like waiting in front of the principal's office, waiting to know what you got in trouble for.
The screen blinked.
It blinked again.
It stalled.
And the number appeared.
18.2%
YES!!!!!!!!!
Wait what!!??
That's the same exact number sister got. Down to the 1/10th percent!
Hahahaha we almost died. So it is confirmed. We are sisters :)
But whoa, hold on only a 0.30% change? Honestly guys, I've been pretty "bad" at times since I've moved back to CA. I've eaten lots of cheesecake, fro-yo, ice cream, oily chinese food, oily thai food, fried delights, my mom's kitchen creations. A lot of things did change though. I have been running more than weight lifting. I did go veggie for over 3 months. I am only 1-2 lbs heaver than I was at my lowest.  A smile smirked across my lips. I was able to maintain and still eat all of these "off-limits" foods??
Note: OK I don't want you to get the wrong impression and think that I am totally obsessed with my weight and body fat %. For the new readers, please understand that I am working to find my own healthy living, fitness strength, and physique potential. Everyone's goals are different and I respect that. As long as we do it in a safe manner, I'm all for it!
Wow! So what does this tell me? Even though Tosca Reno says that 80% of our physique is a result of our diet, how much of the 80% needs to be followed? Obviously it is not 100% of the time to maintain! I think I've been good like 65-70% of the time. That's pretty decent. I'd like to bring that to 90% at least to reach to reach a new level of physique. Back during the diet plan, I was seriously like 99% good. It was stressful at times though. ESPECIALLY on low carb days. OMG I was the crankiest human alive!
So what's the takeaway lesson here?
You can still eat bad, processed, salty, sugary, fried foods sometimes and maintain your weight and body fat percent. But read that with caution. I don't recommend eating those foods on a regular basis. PLUS even if it doesn't affect your physique you may be doing damage to your own health without knowing it. Just because it's not visible does not mean its not affecting you. Go for whole, fresh, unprocessed foods as much as possible! But the occasional cheesecake is healthy for your soul :)
Also I've been dying to make an announcement. I hope you don't get mad at me :(
Recently, I've been doing a lot of traveling and I find that it is extremely difficult to make healthy choices sometimes when I am restricted to just vegetarian options. Without preparation this can be "deadly". I was faced with fried tempura vegetables versus grilled chicken breast at one point and ended up taking the tempura and peeling off the fried skin and squeezing the veggies in napkins.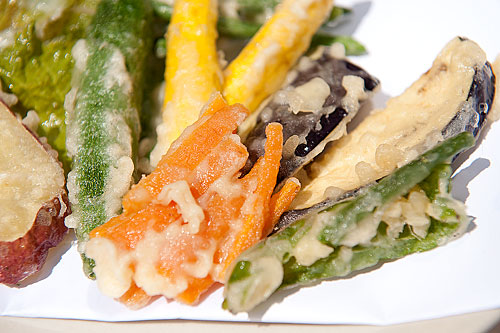 So here it is. My official announcement. I no longer am going to label myself as a vegetarian. I want to be able to eat chicken breast when it is the healthier option. When I have a choice, I'll go veggie. But I don't want to be restricted by boundaries.
Phew.
I hope you don't think I am giving up on being Vegetarian. It wasn't difficult for me. I truly enjoyed it, but what I didn't enjoy was having to pick unhealthier options because of my boundaries. Realistically, I can't pack my lunch ALL THE TIME. Do you understand? I hope so. I predict that I will still be veggie 80% of the time though as I have become accustomed to the colorful and bursting flavors of vegetables. I have discovered a new appreciation for them.
So that's it! What do you think about my body fat % discovery and my breakage from Veggie-dom?
What the female body looks like at different body fat percentages
Wow take a look at that! Where do you stand? As you can see, as the levels of body fat begin to increase, loss of definition becomes more and more apparent. Don't take this too close to heart though, because 2 people with the same body fat percent can actually look totally different. See below: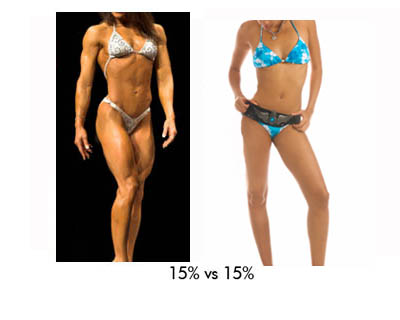 Will 2 people with the same body fat % look the same?
No. It isn't all about body fat percent, it's about lean muscle mass too. If these 2 women were the same height, let's say 5' 5", I bet the girl on the left weighs around 118 and the one on the right, 95 lbs. How you build muscle (or not) will determine the your physique. Left girl obviously lifts weights and right girl does not, but the layer of fat from their muscle to skin is the same. Does this make sense? Body fat is just the thickness of the fat you have. Your overall shape is determined by your musculature.
What's your body fat %?
Above is a great chart that matches up your body fat % with fitness level. The people in "essential fat" are usually Olympic athletes or serious fitness competitors. At this low of a body fat % women will lose their periods completely! I hear that most bikini models are around 14-15%, so that would put them in the "athlete" level.
How to find your body fat percent?
1. Skinfold Measurement (Skin Pinch)
2. Bioelectrical impedance analysis (Handheld/Scale Deviced)
3. Dual energy X-ray absorptiometry (Dexa Scan)
4. Height and circumference methods (Measurement Collections)
5. Hydrostatic Testing (Underwater Density Test)
The skin fold test is what I used to determine by body fat percent. You will need a personal trainer or someone who knows how to use calipers to do that for you because he or she will have to pinch your fat and measure the mm of fat thickness in 7 different areas, some of which you will not be able to reach for yourself, like your back.
I know a lot of you may not have access to calipers, a personal trainer, or a gym, so here's a quick and semi accurate way to see where you stand. This is #4, the height and circumference method - use this online calculator, a scale, and a measuring tape to see where you fall:
http://www.active.com/fitness/calculators/bodyfat/
[Edit 7/20/2011: A lot of girls were telling me that they got bf%'s in the low 30s when they knew they were around the 20s. Thanks for the call out. For whatever reason that calc seems to be very off. Try this one instead? Although, this is not as accurate as a caliper measurement by a fitness professional!]
http://www.bmi-calculator.net/body-fat-calculator/

Remember, this will not be completely accurate so proceed with caution!
What am I?
In the picture above, I am 17.5% body fat and 118.4 lbs. I'm 5'5".
Finding a balance…

Don't get too sucked in by the numbers. What matters is how you look and feel at the end of the day. I know a lot of young girls just want to be 105 lbs and will do anything to get there. (I get so many emails about this…) But remember, if you want to get thin, take into consideration your health as a whole. Think of it as getting FIT not as getting skinny. I love that through my workouts, not only have I achieved a more toned body, but I also have gotten so much stronger!
Some of us want the skinny actress look, others want bigger butts or bigger boobs, while a select few fancy looking like body builders on steroids (see 1st photo). Whatever it is you want, I encourage you to follow through with you goals as long as you feel strong and healthy doing it. Okay? Also, remember to be happy with the journey too. Because what happens when you get to your goal weight and you don't experience an instant burst of joy like you had always dreamed? Well, that's why you gotta embrace your healthy lifestyle. Keyword: lifestyle. It doesn't end when you reach your goal…it becomes your life. So love it now.